Home
›
Garmin Support
›
Garmin Auto Forum (Garmin Nuvi, Garmin Drive Forum)
This site uses cookies to offer you a better browsing experience.
Find out more
about how to manage cookies, or dismiss this message and continue to use cookies.
How to turn off hill shading on Nuvi 1490.
I have a 16 GB card in my 1490. That card has a Map folder and a Garmin folder.
The Garmin folder has a gmapsupp.img of transparent topos. The Map folder contains a routable non-transparent topo with a custom TYP file. All maps and CNNA can be enabled or disabled in the Info screen. When
CNNA and the transparent topo are enabled my screen looks like this:
But when I enable my nontransparent topo in the map folder and disable the others my screen looks like this: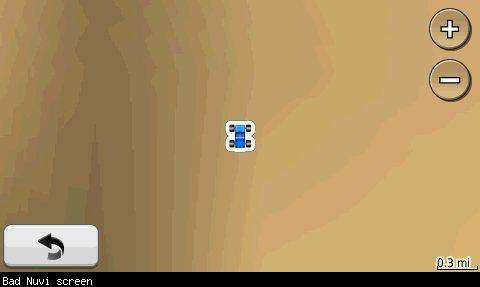 It appears that what I'm seeing is hill shading, not a distorted version of my TYP file. Is there any way to disable it? I didn't see anything about it in the Nuvi Manual.
I should add that the Bad Nuvi screen closely resembles the Good Nuvi screen on my handhelds, and in BaseCamp/MapSource. It also reads correctly when it's placed in the Garmin folder on the Nuvi, but that folder only seems to take a single gmapsupp.img. Renamed IMG files don't show.
↑ Top