Home
›
Garmin Support
›
Garmin Auto Forum (Garmin Nuvi, Garmin Drive Forum)
This site uses cookies to offer you a better browsing experience.
Find out more
about how to manage cookies, or dismiss this message and continue to use cookies.
Garmin Express - Confusing Status - Map failed to update
I have a 265W and I update my lifetime maps about every 9 months or so. Garmin.com asks to update some piece of PC software every time but that's never been a problem. The update to Express has been the biggest jump.
After clicking on updates, it listed a firmware update, and the map. The firmware update went OK although it seemed to take forever for Express to re-connect to the 265W again. Accessing as a mass storage device was OK.
I clicked on the green US & Canada check box and clicked on continue. All I had for 6 hours was this screen: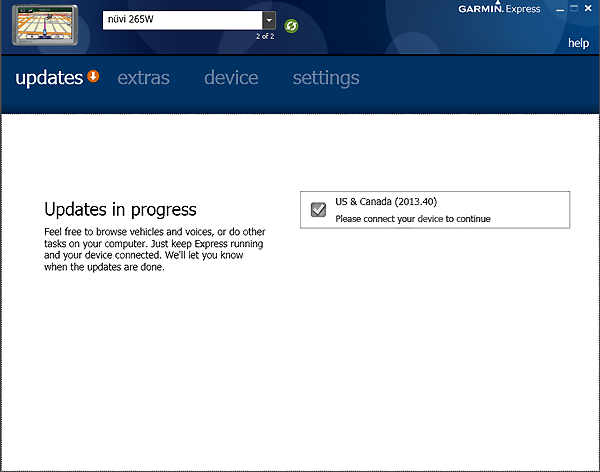 Interestingly, it asked to "Please connect your device to continue" and "Updates in progress" at the same time.
Since this was taking longer than normal, I restarted everything and ran the update. It ran from 9PM one day to 3PM the next before I gave up again. Still no map update.
I'm using the same computer and cable as all the other successful map updates on this GPS and this is the first failure. I would have helped if Express provided more progress information.
Has anyone had success with Express and a 265W?
↑ Top