Home
›
Garmin Support
›
Garmin Auto Forum (Garmin Nuvi, Garmin Drive Forum)
This site uses cookies to offer you a better browsing experience.
Find out more
about how to manage cookies, or dismiss this message and continue to use cookies.
Garmin introduces two Android based devices
These are specifically designed for trucks/fleets, but the price is similar to the nuvi and the ability to customize them with third party apps and peripherals looks very interesting.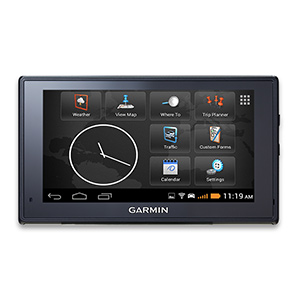 https://buy.garmin.com/en-US/US/on-the-road/fleet/garmin-fleet-660/prod168406.html
https://buy.garmin.com/en-US/US/on-the-road/fleet/garmin-fleet-670/prod168656.html
Additional Specs

Tri-axis accelerometer: yes
Connectivity support: Wi-Fi®, Wi-Fi Direct, Miracast, USB (micro), Bluetooth® 2.1+EDR
NFC for driver/vehicle identification and data synchronization: yes
microSD™ card slot: yes
GPS sensitivity: strong, even in-cab through high sensitivity GPS
Plug and play: yes with unique magnetic powered mount
Audio/video: yes, cab quality (with file playback from microSD card and built-in storage space up to 1080P30 (support for mp3, wmv, wma); hands-free driver operation with automatic speech recognition/Bluetooth support)
http://garmin.blogs.com/pr/2014/08/garmin-introduces-its-first-android-based-fleet-navigators.htm
Garmin International Inc., a unit of Garmin Ltd. (NASDAQ: GRMN), the global leader in satellite navigation, today announced the fleetTM 660 and 670, two new fleet navigators that combine the simplicity of Garmin navigation with the unique customization options of Android. With the fleet 660 for local fleets and the fleet 670 for commercial truck fleets, service providers can introduce customized applications and value-added services that meet the unique requirements of their customers. The new devices also connect to and control a wide range of external devices over Wi-Fi®, Bluetooth®, or serial cable. "The fleet 660 and 670 are our first fleet products that combine trusted Garmin navigation and hardware with the flexibility of Android," said Chad Sallman, Senior Business Development Manager for Commercial Solutions at Garmin. "These new devices remove many of the hurdles fleet service providers face today, making it easier than ever to develop customized solutions for both medium and large, enterprise class customers." The ubiquity of the Android platform makes fleet service providers less dependent on third-party technology companies when developing customized fleet solutions. Providers can easily integrate existing applications from their partners for signature captures, work orders, or inspection reports, for example. The easy-to-use interface is fully customizable and applications and widgets can be added onto the device home screen. The fleet 660 and 670 hardware is optimized for in-cab use with a dust-proof design, high-sensitivity GPS, extra loud speaker, and a sunlight readable, 6-inch capacitive touch screen that makes it easy to see driving-related information at a glance. A powered magnetic mount allows for a quick and easy removal between vehicles. Through Bluetooth and WIFI the devices wirelessly connect to a black box data transponder or other sensors and peripherals, such as a wireless printer or card reader. The fleet 660 and 670 include the latest navigation technology from Garmin, such as Garmin Real Directions™, voice activated navigation, Active Lane Guidance with voice prompts as well as free lifetime traffic1 and maps2. Both devices also feature an integrated gyroscope to record and analyze driving behavior and support Near Field Communication (NFC) for driver and vehicle identification and data synchronization. The fleet 660 is designed for local-service fleets while the fleet 670 is ideal for commercial long-haul trucking fleets with its trucking-specific functions, such as route calculation based on truck attributes, trucking points of interest, Hours of Service (HOS) logging, and International Fuel Tax Agreement Documentation (IFTA). The fleet 660 has suggested retail price of $399.99 and the fleet 670 has a suggested retail price of $449.99. Both devices are expected to become available in the fourth quarter of 2014.
↑ Top