Home
›
Garmin Support
›
Garmin Auto Forum (Garmin Nuvi, Garmin Drive Forum)
This site uses cookies to offer you a better browsing experience.
Find out more
about how to manage cookies, or dismiss this message and continue to use cookies.
First day out with Nuvi 57LM
I got the Nuvi 57LM (and friction mount) yesterday, downloaded the maps etc, then took a drive with it today. Here are some newbie observations.
- With a destination set, it works very well. It announces exits and turns ahead of time in very understandable speech and (usually) displays the distance to go to that place. All in all, a very good performance.
- I had a difficult time entering my first destination. (1) it didn't recognize the street name using "Road", but insisted on "Rd", and (2) it kept doubling up my street address, don't really know why; somehow I found a way to get the address entered.
- A few times it didn't display the miles to the next turn/exit, but did announce them correctly. Don't know why.
- Nearing home, I diverted from the route it had picked (which was the best route) to run an errand in another part of town. As soon as I was half way down the "wrong" exit ramp, it immediately started directing me from that new place, which was really good. Later on that diversion, I turned onto a street in the opposite direction from the new route. It then gave me with new turn instructions as I passed one street after another, and finally seemed to give up and said "As soon as possible, make a u-turn". I thought that was great.
- I found the display of symbols for restaurants and gas stations annoying. In settings, the only way I could get it to not display those was to uncheck the box for Map Layers > Up Ahead Places. I haven't used the GPS since then to see if that worked.
- First I used it as a map only, with no destination. I found it interesting for a while, but it missed displaying some exits as they approached, including important ones. Eventually I decided that there was really no good reason to use it that way. Do others agree or not?
- The friction mount (
https://www.amazon.com/gp/product/B002OL2MU4
) worked great. See photo.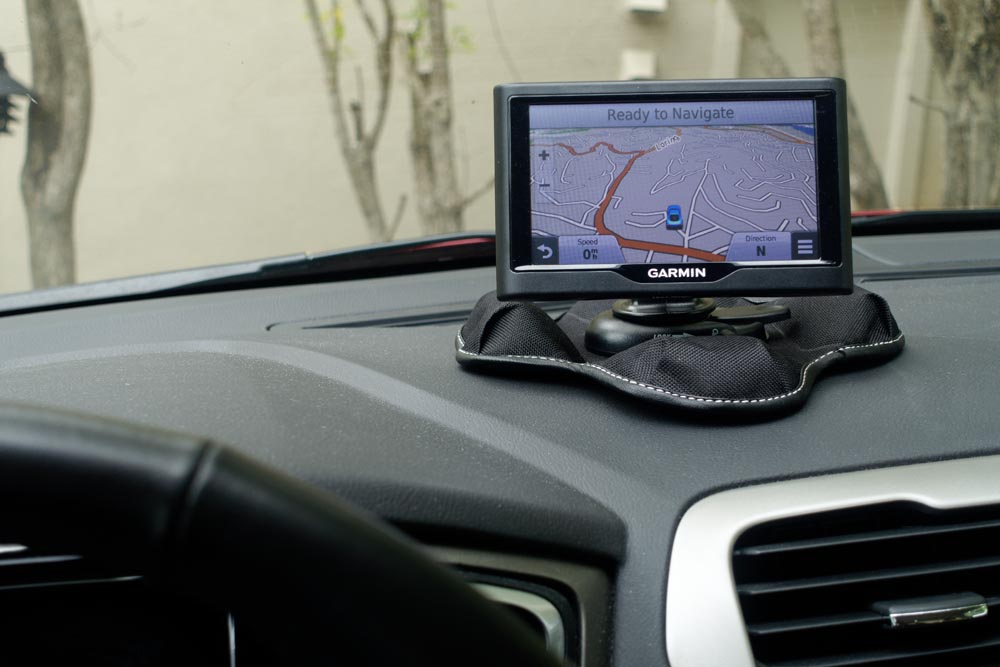 ↑ Top